The Importance of Backups
Backups are the most effective way of recovering your files and data from unexpected events such as your computer or hard disk failing, damage or ransomware attacks which encrypt your data, so it's crucial you have a good backup plan.
Should the worst happen, and you do not have any backups, you will lose all your files and data and in the case of a ransomware attack, be left with no option other than to pay the ransom.
In this article we'll assume you already have a backup plan in place, but before we get started, here's a couple of tips to keep you safe:
Make regular backups of your most important files. Ideally your backups should be fully automated.
Ensure you create offline backups that are kept separate, in a different location as ransomware actively targets backups.
If you are using cloud backups, ensure that your cloud service protects previous versions of the backup from being immediately deleted and allows you to restore to them. This will prevent both your live and cloud-backup data becoming inaccessible
Make sure that the devices containing your backup (such as external hard drives and USB sticks) are not permanently connected to your network. Attackers will target connected backup devices and solutions to make recovery more difficult.
Ensure that backups are only connected to known clean devices before starting recovery.
What folders should I backup?
GhostVolt stores all your encrypted data, security keys and settings in two locations. Its very important that both locations are backed-up when any changes are made.
Backup folder 1 - GhostVolt Repository
Your GhostVolt repository is a folder stored on your computer which contains all your encrypted files. You can find out where your repository resides by opening GhostVolt, then select the Admin tab.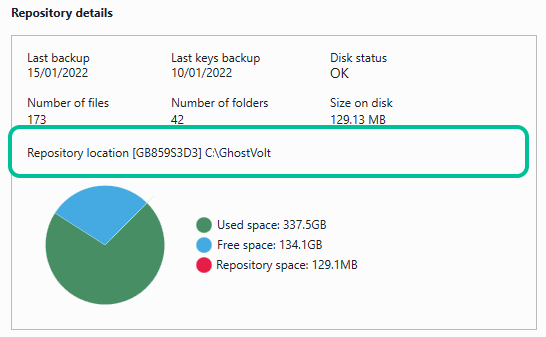 Backup folder 2 - GhostVolt Data and Keys
All your GhostVolt keys, data(Secure notes, tags, comments etc.) and settings are stored within your Windows program data folder. Open Windows explorer and navigate to the following location:

Your GhostVolt data location is hidden by default in Windows explorer.
Microsoft OneDrive users
If you're a GhostVolt Solo user and hosting your repository on Microsoft OneDrive, all your GhostVolt files and data are automatically backed up. If you would like to back up your OneDrive hosted repository via a secondary backup App, simply add the following folder to your backup schedule.