Sharing Files & Folders
Sharing with a secure folder
GhostVolt's Share feature enables secure sharing with anyone, even if they don't use GhostVolt. Your files will be output to a secure Share Folder that can only be accessed using the Share Password you specify. So you can send your secure Share Folder via email, social messaging or on the cloud using Dropbox, Google Drive and more. But you must send your Share Password by secure means.
We recommend sharing your Password in person, in a secure call or over an encrypted messaging service.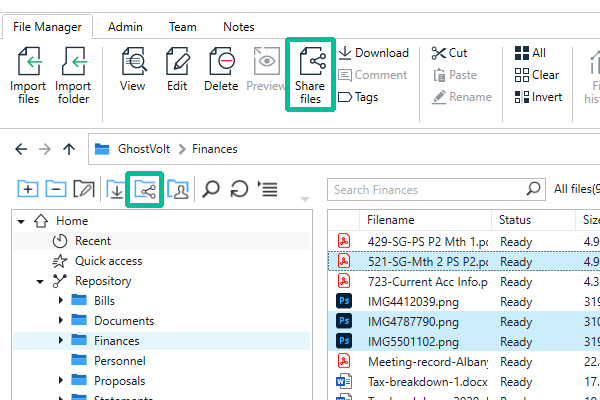 The process for sharing individual files is the same as that for folders.
1.
Select the files/folder you want to share and click Share files in the main ribbon (for files) or the Share folder button in the folder view toolbar (for folders). Or you could right-click on your files or folder and choose Share files / Share folder from the context menu.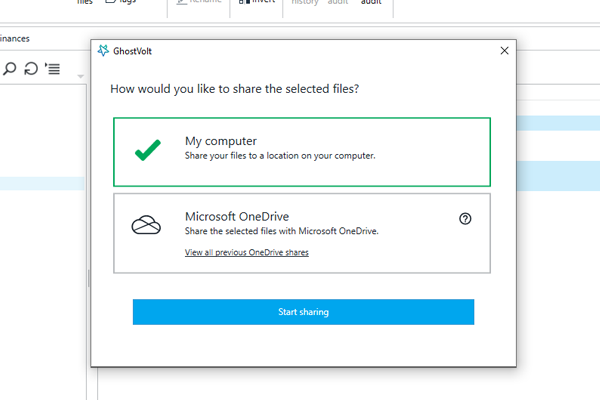 2.
Now select My computer and click Start Sharing.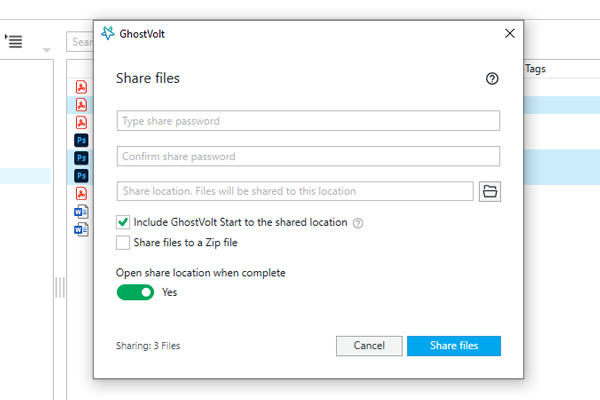 3.
Now enter some details for the secure Share Folder your files will be output to:
Share Password: Create a password that is unique to this share, you will give this to your recipient(s) later to access your files.
Note: the password strength indicator on the right will assess the integrity of your password as you type.
Share location: Choose a location on your computer to save the share folder for now.
GhostVolt Start: Choose to include GhostVolt Start to the shared location if your recipients do not use GhostVolt already. They will be instruced on how to unlock the files once they have them.
You can share to a Zip file if you like and open the location once done, your choice.
To finish click Share files
Now your secure, password protected folder is ready to share with anyone you choose.
Unlocking Shared Files
Your recipient will receive your Share Folder which (if you specify when sharing) will include a copy of GhostVolt Start and a short ReadMe.txt file with simple instructions on how to unlock your files. They can then launch their copy of GhostVolt Start and unlock the files using your Share Password.
For more information see: Unlocking Shared Files in the GhostVolt Start help section.
Sharing with Microsoft OneDrive
You can easily share secure files straight to Microsoft OneDrive by connecting your account directly to GhostVolt.
For more information see the Microsoft OneDrive help article.