Just Drag, Drop & Lock... Let's Start Encrypting!
A quick guide to GhostVolt Start
When it comes to file encryption, GhostVolt Start is about as simple as it gets. Just Drag, Drop and Lock. It really is that simple. Don't be fooled though, GhostVolt Start uses the very best security tools when it comes to locking your files, we're taking about the same encryption methods used by law enforcement, banks, large enterprises and probably the military.
So, Lets quickly cover the basics of GhostVolt Start...
How does it work?

Add your Stuff
Just drag and drop or browse to your files and folders

Start locking
Select your files in the list and press the Lock button

Enter a password
GhostVolt Start assists with password strength as you type

Hit 'Lock Files'
That's it! Your files are now secured in their original location
What does it look like?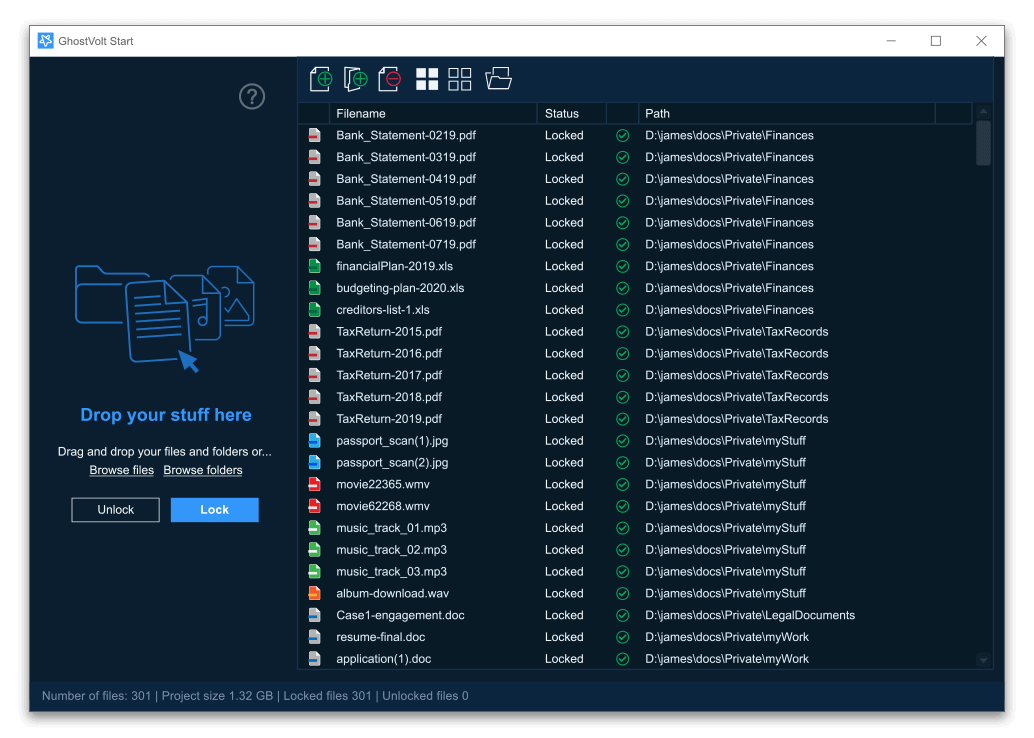 GhostVolt Start is very simple. It shows the list of files you have imported, select the ones you want to Lock or Unlock and use the buttons on the left.
The toolbar at the top just helps make importing, deleting and selecting your files easier.

Add files
Opens a Browse window so you can add files directly using Windows Explorer.

Add folder contents
Add the contents of folders directly using Window Explorer. (All files from all sub-folders will be added to your project).

Remove files
Removes the selected files from your project. File are not deleted from your computer.

Select all
Selects all files in your project.

Select none
De-selects all selected files in your project.

Open file location
Opens Windows Explorer to the location of the selected file.